18:34 | 20.11.2020
Ministry of Communities and Territories Development and DESPRO Continue Their Cooperation in Decentralization
The Ministry of Communities and Territories Development and the Swiss Cooperation Office agreed on continuing the Decentralization Support Project DESPRO. The decision was supported by signing the relevant agreement in Kyiv earlier this week.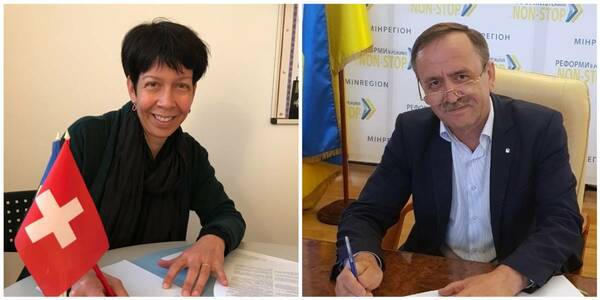 Viacheslav Negoda
, The Deputy Minister of Communities and Territories Development, emphasizes the importance of the DESPRO project in Ukraine's achievement of decentralization goals.
«All these years MinRegion received effective support from DESPRO in implementing the tasks of the very complicated reform of local self-governance and territorial organization of power, and decentralization of power. It is no exaggeration to say that the effectiveness of the reform, which is recognized as the most successful in Ukraine, largely depends on the professionalism of the DESPRO team. One of the many examples of this project's support is the comprehensive communication of decentralization. We started with 15% public confidence in the reform, today it is 80%. There is trust, so there is support from the population, and therefore there is quality and efficiency in the implementation of the reform's tasks. The Ministry of Regional Development is grateful to the Swiss people for their support and consistency. Continuing cooperation with DESPRO gives every reason to hope that decentralization will achieve its goals - high-quality and affordable services for people in every community, appropriate conditions for the development of territories, and self-realization of everyone," said Vyacheslav Negoda.
Nicole Ruder
, Director of the Swiss Cooperation Office in Ukraine, notes the significant progress in implementing local government reform in Ukraine.
"Switzerland is a long-term reliable partner of Ukraine on its decentralization path. It is extremely important that Ukraine, having studied the experience of other European countries, has developed its own model of decentralization, which has been methodically implemented over the years. An important milestone of the reform came with the holding the 2020 local elections on a new territorial basis. However, decentralization continues, so open dialogue and communication on reform are critical to consolidating the results of the reform," says Nicole Ruder.
DESPRO assures that they won't slow down and are ready for new challenges.
"It's nice to work when you can clearly see the results. Our project is aimed at efficiency in the implementation of decentralization. Of course, the achievements of the reform are a joint result of the Ministry of Regional Development and other ministries, local governments and many international partners working in this area. And it is nice to realize that DESPRO is also involved in the positive changes that are taking place in the country today as a result of decentralization. We are grateful for the trust and the opportunity to continue cooperation, says
Oksana Garnets
, Senior Project Coordinator of the Swiss-Ukrainian Decentralization Support Project DESPRO.
Swiss-Ukrainian Decentralization Support Project DESPRO is an international assistance project working in the reform of local self-governance (or "decentralization") in Ukraine. DESPRO is funded by the Swiss Confederation via the
Swiss Cooperation Office
and implemented by
Skat - Swiss Resource Centre and Consultancies for Development
.
>
read more about DESPRO