12:00 | 01.12.2020
Drinking Water and Wastewater Treatment in Ukraine. What the State Policy Should Be? The Public Dialogue Launches on December 2nd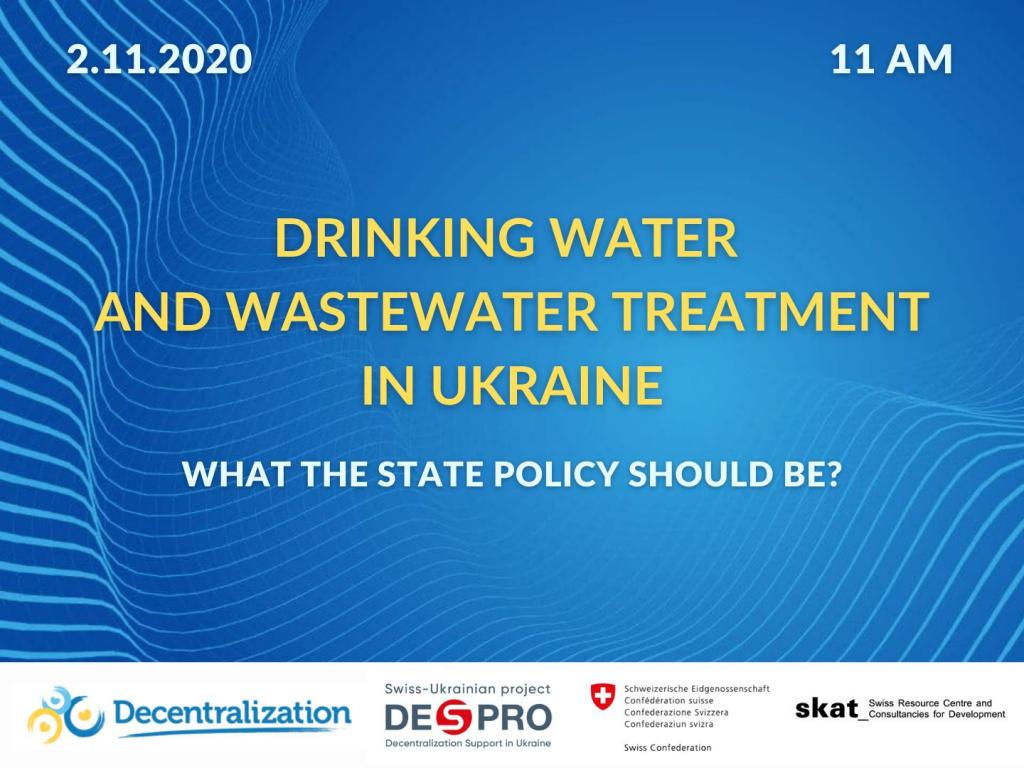 The public dialogue "Drinking Water and Wastewater Treatment in Ukraine. What the State Policy Should Be?" will be held on December 2nd, 2020, at 11 AM (Kyiv time)
Organizers of the event: the Decentralization portal and DESPRO.
Swiss-Ukrainian Decentralization Support Project DESPRO is an international assistance project working in the reform of local self-governance (or "decentralization") in Ukraine. DESPRO is funded by the Swiss Confederation via the Swiss Cooperation Office and implemented by Skat Consulting Ltd. - Swiss Resource Centre and Consultancies for Development.
The event will address key issues related to access to drinking water and sanitation in small communities in Ukraine, as well as possible solutions that will help remedy the situation and develop an effective state policy in the water sector.
In particular, the event participants will discuss the following topics:
• The content of the state water policy in the context of decentralization reform: do the means and tools need modernizing to achieve national policy goals?
• Public policy in the water sector: regulation and/or stakeholder support?
• How can the state support the "local players"? Are there institutional and/or financial barriers that can be removed to facilitate the "path to improvement"?
• What is the state of the sector and where to move: national monitoring of the sector, as well as measuring progress towards the Sustainable Development Goals.
In continuation of the dialogue, DESPRO project experts will present
the Strategic Proposal for water supply and sewerage policy in the communities of Ukraine
.
The event will be broadcasted in Ukrainian on
DESPRO
and
Децентралізація
Facebook pages, as well as Youtube pages of
DESPRO
and
Decentralization
.
To join and watch the broadcast in English, please fill in the
Google form
to receive an e-mail with a Zoom invitation.