17.12.2010
THE DESPRO PROJECT PARTNERS' FORUM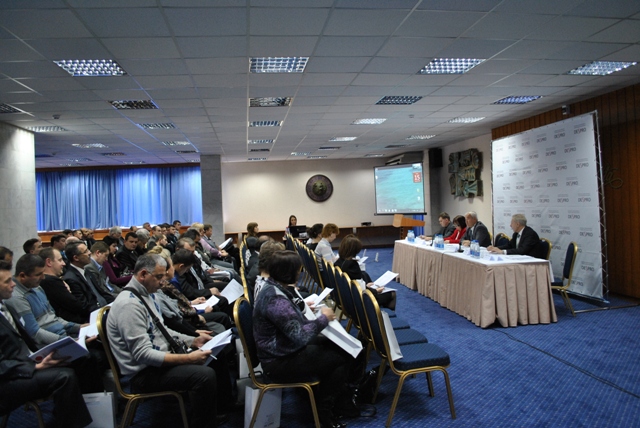 Forum of the Swiss-Ukrainian Decentralisation Support in Ukraine Project DESPRO partners was held in Yalta on December 15-16, 2010.
The first forum day was devoted to the summarizing activities of the year 2010, analysis of the urgent issues and ways of reforming local self-government, informational and learning environment for carrying out reforms. Leading experts in the field of administrative-territorial reform, state regional policy, personnel policy in the sector of public administration shared views and experience with practitioners - local self-government officials, civil servants, heads of village councils. Individual sessions were devoted to the knowledge management - one of the components of the DESPRO project. Sociological survey of the demand for knowledge in the system of executive bodies of government and current practices of meeting this demand, in particular, knowledge portal in the local self-government sector, currently under development, was presented to the forum participants. Windup of the first forum day was held in the friendly atmosphere at the delicious dinner and interesting concert programme.
During the second forum day project partners discussed co-financing of the local development initiatives, management of knowledge and experience gained by the DESPRO project. Solid waste management projects to be co-financed by the DESPRO provided an individual topic for discussion. After presentations on this issue, the premiere of the documentary "On the other side of the garbage" which was filmed at the DESPRO request took place.
In the conference participated representatives of the Ministry of Housing and Communal Services of Ukraine, Council of Ministers of AR Crimea, Vinnytsya Regional State Administration, Sumy Regional State Administration, the National Academy of Public Administration at the President of Ukraine, the Association of Village and City Councils of Ukraine, Institute of Sociology of the NASU, the Association of Ukrainian cities, the Civil Society Institute, the Association of Regional Development of Ukraine, Ukrainian Distance Learning System, UNDP Municipal Governance and Sustainable Development Programme; representatives of the DESPRO partner rayons and rural communities.