24.03.2011
Knowledge Management: Prospects for Implementing the Concept in the Public Sector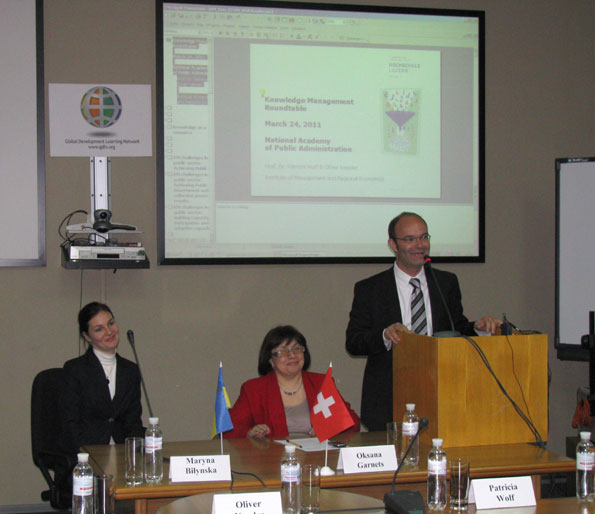 The Roundtable on Knowledge Management: Prospects for Implementing the Concept in the Public Sector was held on 24 March 2011 at the National Academy of Public Administration. The event was organized by the Swiss-Ukrainian Decentralisation Support Project in Ukraine - DESPRO.
Maryna Bilynska, Vice President, noted in her introduction speech that "the knowledge management technique is one of the components of effective personnel policies, and it is extremely topical for the public administration system. It is nice that thanks to the DESPRO Project, the specialists of the Academy are involved in developing this technique."
Oksana Garnets, Project Manager for DESPRO in Ukraine, added that the event precedes a three-day Teacher Training on Knowledge Management Technique. Such training will be held for the first time in Ukraine, and some of the best world experts in this field are involved in it.
Oliver Kessler, Head of the Competence Centre for Public and Non-profit Project Management at the University of Applied Sciences and Arts, Lucerne (Switzerland), and Patricia Wolf, Research and Development Director at the Institute of Management and Regional Economics of the University of Applied Sciences and Arts, Lucerne (Switzerland), presented the problems of knowledge management in the public sector and of knowledge management as a field in general.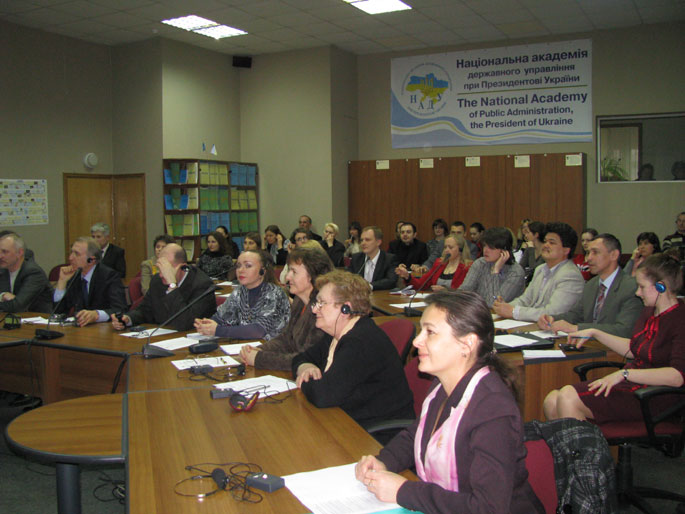 Oleksandr Goncharuk, Senior Researcher at the Institute of Sociology of NAS of Ukraine acquainted the participants with a survey on challenges of knowledge management. The survey was conducted by the Institute of Sociology at the request of the DESPRO Project. 600 respondents from 15 regions of Ukraine, who work in local authorities, took part in it.
During the discussion, the teachers were interested in the issues related to their role in the process of gaining knowledge, public servants' motivation for knowledge, and determining the volume and amount of knowledge for public servants.
The Roundtable meeting was attended by teachers, PhD candidates, post-graduate students of the National Academy, international experts, and representatives of central authorities.