19.04.2011
Synchronizing donor efforts: a meeting of the international partners of the National Academy of Public Administration under the Office of the President of Ukraine
The coordination meeting of the international partners of the National Academy of Public Administration under the Office of the President of Ukraine (hereinafter - NAPA) was held April 19, 2011 in Kyiv.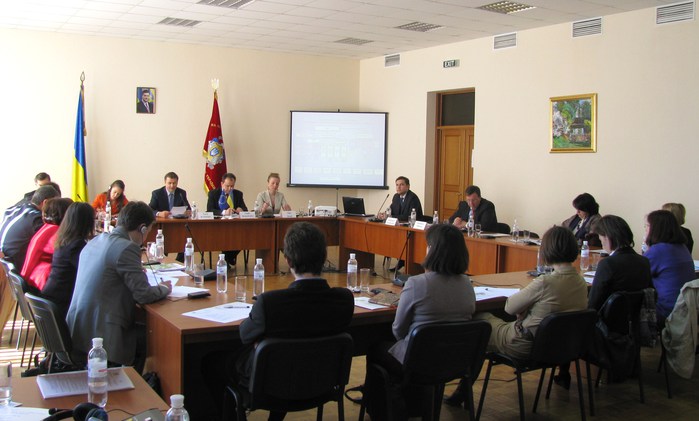 The meeting aimed at discussing the prospects of further cooperation of the international organizations with NAPA in the area of improving civil servants' educational level, as well as at the synchronization and coordination of donor efforts in this field. The meeting participants presented the projects and the results of cooperation with the Academy.
Oksana Garnets, Senior Project Coordinator of the Decentralization Support to Ukraine Project (DESPRO) noted that an important task of the second phase of activities is the integration of positive experience of the Project in the activities of authorities at all levels. "On the basis of the National Academy of Public Administration and together with the UNDP Project "Municipal Governance and Sustainable Development Programme", we are introducing training courses on decentralization and effective local government for local government officials, civil servants and deputies of local councils. Our goal is to develop, implement and institutionalize these programs,"- emphasized Oksana Garnets. She mentioned that as a result of the trainings, workshops and study tours organized by the DESPRO Project, more than 500 representatives of public authorities improved their knowledge level. Besides, in collaboration with NAPA, the DESPRO Project is developing an information portal for local government officials and civil servants. Currently, the electronic resource is 'under construction' at the stage of content fill-in. Oksana Garnets informed the international partners that the DESPRO Project was planning to organize Knowledge Management training courses for NAPA faculty members and to implement similar courses in the 'Public Administration' field of education among the regional institutes of the Academy.
Among the international partners of NAPA, there were representatives of GIZ Project "Improvement of quality of municipal services" Project, the EU Twinning project "Support to the development and improvement of the civil servants training system in Ukraine", Ukrainian-Canadian Capacity Building Project "Evidence based economic planning of municipal development of Ukraine", "Forum of young civil servants" Project, and the Swiss-Ukrainian Decentralization Support to Ukraine Project (DESPRO).