27.11.2014
The International Economic Forum was launched in Lviv under support of DESPRO
XIV International Economic Forum started in Lviv. During the opening ceremony, the organizers of the event noted, that the key topics of this year's forum would include decentralization and regional authority reform, as well as impact of the Agreement of Association with the EU upon business development. Head of DESPRO – Ms. Oksana Garnets – is among the speakers.
According to the first deputy head of Lviv city council, Oleg Syniutka, we live in the conditions of war, which influences all the processes, happening in the country. At the same time, even in these conditions, we must think, what our country is going to look like tomorrow.
 Deputy Lviv state oblast administration head Yuri Pidlisny reminded, that Lviv forum took place on the day when the newly elected Verkhovna Rada started its work. He expressed hope that, as a result of changes in the country, Ukraine would become one of the most attractive countries for investing.
 The head of budget committee of Lviv oblast council, Yaroslav Kachmaryk, noted, that  no investment projects would be presented at this year's economic forum, however, investment potential of Lviv oblast still remains one of the best ones in the whole Ukraine. At the same time, according to Kachmaryk, the west should give the new parliament the messages, providing the guidelines for local self-governance reformation.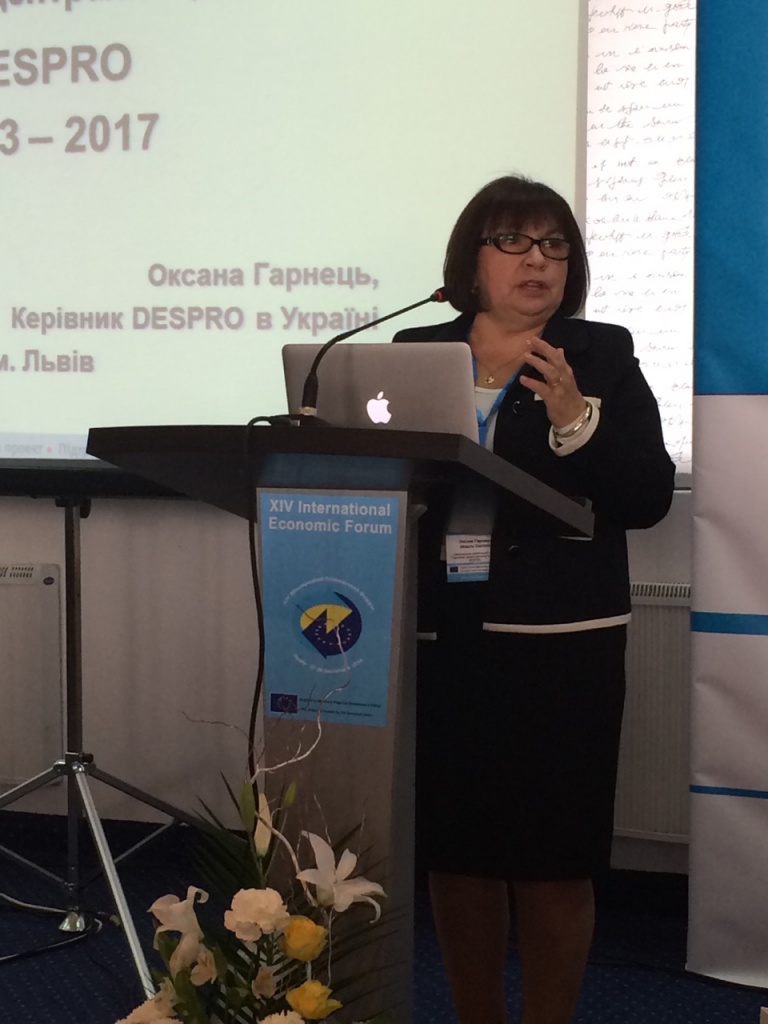 "The dialogues we intend to continue, engaging representatives of authority and local self-government, will result in consolidation of all players, involved in the reforms, and, thus, have a positive impact upon promotion of the reforms in general. All-Ukrainian associations of local self-governance should become the actual bearers and the moving force of the reforms", said Oksana Garnets during her speech.
This year's International economic forum will be dedicated to discussion of two topics, which are of vital importance for development Ukraine: decentralization and state regional policy reform, as well as the Agreement of Association between Ukraine and the EU – as a chance of changing our country.
 ХІV International Economic Forum is held under support of Lviv oblast state administration, Lviv oblast council, Lvic city council, as well as Swiss-Ukrainian project "Decentralization support in Ukraine" DESPRO and European Union programme "Support of regional development policy in Ukraine".