14.02.2018
Zero Waste. How Community Can Generate No Rubbish at All, Interview with an Expert
Public Services and Monitoring Expert of the DESPRO Swiss-Ukrainian Decentralisation Support Project in Ukraine Mr. Vyacheslav Sorokovsky speaks about national peculiarities of waste collection in Ukraine, as well as how to get out of the rubbish noose.
Just recently, the map of disposal sites in Ukraine www.ecomapa.gov.ua received a new informational service allowing to determine the location of the nearest secondary raw materials drop-off centre. There are more than 700 recyclables drop-off centres (electric batteries, luminescent lamps, waste paper, plastic, glass, etc.) displayed on the on-line map of disposal sites Most of such facilities are registered in Kyiv city (119), Zakarpattia (75), Kharkiv (84), and Dnipropetrovsk (37) regions. This very topic was the subject matter of discussion with Mr. Vyacheslav Sorokovsky, Public Services and Monitoring Expert of the DESPRO Swiss-Ukrainian Decentralisation Support Project in Ukraine.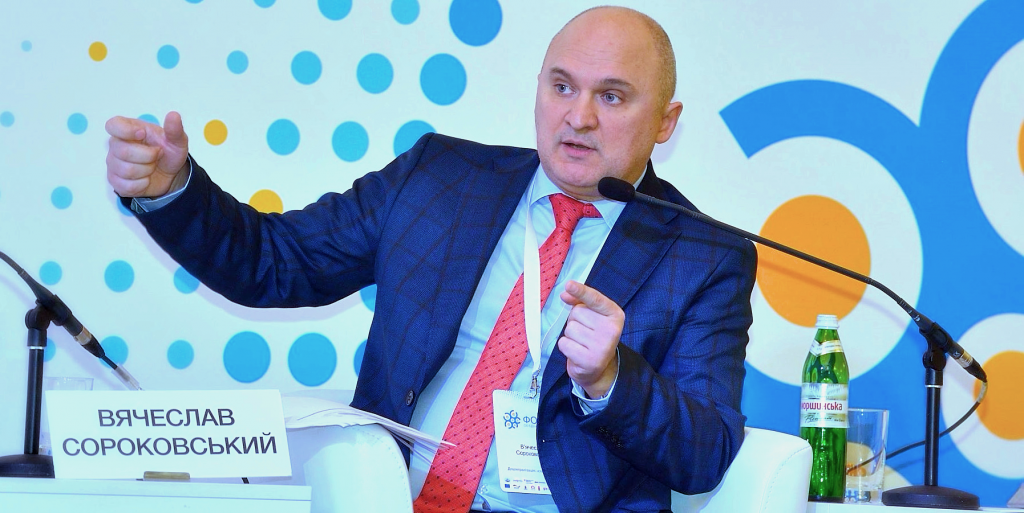 Valuable Waste
In Ukraine, they began to separately collect plastic bottles not long ago, and in schools they collect electric batteries. Is there any commercial element in that? Is that waste really recycled at some places rather than discarded into gullies?
- If money is paid for the collection of valuable waste, there is no sense to discard it with the rest of waste. Though from time to time, there appears information that separately collected waste is taken together with mixed wastes in one lorry. It may happen, but, in my opinion, it is not a rule. In most cases, when waste is collected separately, it is recycled.
Are there enough waste recycling plants?
- I would not generalise at this point. It is known that there are capacities to process plastics, glass, and paper in Ukraine. The situation is different regarding such specific wastes as electric batteries, luminescent lamps or composite packaging. The information on the available capacities differs: somebody starts processing at some place, then gives up eventually. At least, different activists engaged in the collection of operated-off electric batteries told me that such wastes are only accumulated at warehouses. However, it is good since those wastes do not go to a dumping ground and not dissolve causing harm to the environment.
Is it profitable to process secondary raw materials?
- I did not study the processing economy purposely. However, companies collecting valuable waste frequently complain: allegedly, the income earned as a result of sale of such waste to processing companies is insufficient to cover expenses for separate waste collection. Why do they collect it then? (In addition to the fact that it is required to do so). Even if the sale of valuable waste yields comparatively small amount of money as a result of recovery of such resources from the entire accumulated rubbish, the operational life of the landfill can be significantly extended. So, it results in substantial cost-cutting. Also, it should be taken into account that expenses of communal enterprises are usually covered by the tariff, and the income gained as a result of sale of valuable waste constitutes, de facto, additional revenues, though insignificant.
In mass media, the problem of plastic packaging disposal costs is raised from time to time. Why those costs are not included in the value of packaging?
- This does not entail plastic packaging only, but any packaging and wrapping. It is called the "extended producer responsibility", when the producer is responsible for the processing and disposal of its products after they are consumed. And, in accordance with the established manner, it covers the deferred expenses. For instance, in the EU, and not only there, this principle has been operating for a comparatively long period of time. In Ukraine, at present, the extended producer responsibility is not operational. Though, several years ago, they tried to introduce it in this country - even a relevant state-owned company was established for this purpose. However, that experience did not prove to be very successful, put it mildly. Currently, the authorities and expert community discuss how that principle should operate in our country. In the first place, it refers to the monetary funds manager: again, a government agency or, for instance, a business association.
And how is this problem resolved in developed countries?
- It differs in various countries. Thus, in France and Austria, for instance, funds of the extended producer responsibility go through a specially established non-profitable business association. Countries may impose a special tax on producers, and then, through a government agency, those funds are channelled to the waste management system, as in Denmark. Or there operates a combined system, when a tax is imposed, however those funds are disposed by a non-profit organisation - such system is introduced, for instance, in Estonia.
In Ukraine, at most, dry and wet rubbish is collected separately. And in Europe, you can see 7-8 various containers for various types of waste.
- In Switzerland, even plastic crockery obtained as a result of operation of coffee-makers is discarded to separate containers. There may be several schemes of separate waste collection. Everything depends on what the purchaser of such waste agrees to, or, broadly speaking, as the processing system of such waste is organised. Thus, the simplest scheme is when dry waste is put into one container, and wet waste, into another. It means that another element of this chain should include additional sorting, separation of one waste from its other types. A separate word should be said about the specific waste type, such as fluorescent lamps. It makes no sense to throw them away to a dry waste bin because the lamps are likely to be broken. On the other hand, there are a few waste collection centres where these lamps can be taken.
Disposal Sites as a Source of Income
Relying on environmental specialists, Ukraine is drowning in rubbish. There are approximately 6 thousand official dumping grounds and approximately 33 thousand illegal disposal sites. Experts say that the destination of about 40% of residential waste in Kyiv is unknown, it disappears. At the same time, it is not easy to find a land plot for a new landfill as experience has shown in Lviv. Will the decentralisation have any effect on the resolution of "rubbish" problems?
Usually, it is difficult for a sole community to maintain a full-fledged waste management system - starting from the collection of rubbish and ending with its burial, incineration, etc. The maintenance of such chain by itself is very expensive and, consequently, it may appear to be inefficient. But in cooperation with other communities, the system will operate much more effectively. However, the communities have to learn how to get together.
A landfill is one of the most important elements of waste management. But it is not easy to find a land plot for it. The rubbish collapse in Lviv showed that under no circumstances communities want to establish a landfill at their place which they think to be a potential environmental disaster area. In addition, the wheels of heavy rubbish removal trucks destroy local roads very quickly...
- In 2000, Switzerland prohibited to establish new landfills. However, when it was still possible, the algorithm was as follows. Based on numerous parameters, Canton authorities determined a place for the landfill. In this connection, Canton authorities tried to reach an agreement on such decision with the community where the future landfill had to be located. Though, eventually, they could take out that land under the enforcement procedure. However, as far as I am aware, Canton authorities never applied that procedure, instead they tried to reach an agreement with the local community through the allocation of funds to it for any particular needs thus resolving some other problems the community was facing, etc. Usually, it never ended with the enforcement. But it is the result of a long-term democratic tradition in that country.
Are investors interested in Ukrainian disposal sites?
- We should distinguish between the interest of investors - whether to construct and maintain a new landfill or excavate the old one. If it concerns the latter, I know only about one such initiative, in Sumy Oblast. There, investors asked the community to allow them to excavate the overfilled landfill to get valuable waste. However, they reckoned on the fact that the landfill was formed at the Soviet era when there was no separate waste collection and many valuable materials found their way to the disposal site. However, the community did not agree to it. And when we speak about investments in a landfill, it is hard to say. At the current level of payment for services by the population and in the circumstances of politicization of the tariff policy, it is unlikely that any investor will agree to make investments in a landfill.
Should the rubbish be incinerated or not generated at all?
In Ukraine, there is only one waste incineration plant, in the capital city. Such enterprises are very expensive: for instance, the cost of construction of rubbish mechanical and biological treatment plant in Lviv is estimated at 20 million Euro, and the value of waste incineration plant in Dnipro city has reached the amount of 60 million US dollars. Then, in view of such circumstances, does it make sense to construct waste incineration plants?
- Why not! They generate heat that can be used for residential heating. However, here, a few aspects should be taken into account. Firstly, waste incineration plants usually pollute air. Therefore, complex technologies should be applied in order to prevent such pollution. For instance, they even have field trips to the waste treatment plant in Zurich, which plant is actually located in the centre of the city. Waste incineration plants as inter-municipal projects began to be constructed in Switzerland as far as in 1960s, and now they are located within the boundaries of many cities. However, their peculiarity is that they were continuously overhauled - actually, that process never stopped. Concurrently, the standards regarding the discharge into the atmosphere of harmful substances became stricter. Therefore, currently, experts are able to say that emissions meet the environmental standards. At the same time, we should not forget that incineration is far from being the first stage in the waste management hierarchy. That is, firstly, we should make efforts to reduce the waste generation, re-use waste, recycle it...
Is it possible, for instance, to use the methane generated as a result of decaying rubbish for heating neighbouring houses?
- As a matter of fact, in accordance with Ukrainian laws, each landfill should be equipped with a system for bio-gases extraction and processing. However, that provision appeared only after most of the currently existing disposal sites had been constructed. That is why they are not equipped with such a system. Nevertheless, it may be installed in the course of a landfill operation. For instance, such facility was recently installed at the Vinnytsia Solid Waste Landfill... Using a cogeneration installation, the heat energy so obtained can be used for heating, and power energy can be even sold at the "green" tariff.
Is it expensive?
- Not cheap. As far as I am aware, the value of such solution in Vinnytsia totals 1.7 million Euro. In due course, in Tulchynskyi Rayon of Vinnytsia Oblast, where the DESPRO Project assisted to construct a full-fledged waste management system, the value of such European installation appeared to be unaffordable for the system. But, it's about more than high price: there should be something to connect the installation to. Maybe, it would be required to lay a pipe-line, renovate the residential heating system, etc. The third point: in the developed countries, there are many trends related to the environment, and one of them is to prevent the generation of waste as such. Ukrainian communities have to take it into consideration. A similar initiative related to waste management is called Zero Waste.
Is it possible?
- It is a concept, a streamline. We shall see whether or not it is possible. At least, the developed European countries have obtained extended experience in this area. For instance, many households there have equipment for composting the so-called "green" waste: garden waste, orchard waste, small-size food waste, etc. I don't know countries where 100% waste is disposed of. But they strive for it, and there is some progress. I visited a large waste recycling plant in Austria where the so-called wet kitchen waste after sorting is treated mechanically and biologically, pressed and dried, and stabilized in the open air. Later, that waste is used as fertilizer for the fields. Everything has to be used somewhere or undergo secondary recycling.
So, can Ukraine straightway jump over the phase of waste incineration plants construction, which plants pollute the environment?
- Why not! During the visit to the waste incineration plant in Switzerland, we heard about a thing that seemed very strange to us: twenty year ago, the heat output of waste incineration was much higher. And every year, due to the introduction of separate waste collection, it decreases. In other words, previously much more inflammable materials found their way to waste bins: plastics, old clothes, wood, paper. Now, everything is processed separately, and things taken to the waste incineration plant are almost non-combustible. And there arises a problem for the plant to ensure high-quality incineration of all those materials. Yes, just theoretically, I am sure that many would like it! - Ukraine may immediately join the next stage of waste management missing the stage of waste incineration plants construction. But, one way or another, our country needs additional facilities where secondary raw materials will be processed. Because, we, in order to overleap the waste incineration stage, currently need to separate that waste a dozen times better than it is done now. In my family, we collect rubbish separately. But are all ready for it?
Author: Dmytro Syniak
Source: Decentralisation.