09.04.2018
"I am in favour of decentralisation, but..."
A public discussion "Is It Worth to Amalgamate?" was held in the cit of Zhovkva of Lviv Oblast. The party supporting amalgamation earned a convincing victory in four rounds of severe war of words by having increased the number of its followers by 16%.
It would be well to have a bit different title for the public discussion in favour and against voluntary amalgamation of territorial communities held last Friday in Zhovkva of Lviv Oblast. It was so emphasised by the non-supporting party. So to say, we definitely are not opponents of the amalgamation of communities and we disagree with the party of supporters only on some matters.
The audience in the hall, where there gathered chairpersons and members of local councils, representatives of pedagogical and health care institutions of Zhovkva, Yavoriv, Brody, Pustomytiv, Zolochiv, and other Rayons of the Lviv region, was more point-blank. Thus, to the question put by the moderator "Do you support the process of community amalgamation?" at the beginning of the debate, 35% of those present answered "No". (The voting was carried out by using small special benchboards). However, at the end of the debate, the situation was already different: only 19% of those present in the hall were against the amalgamation of communities.
The event was arranged for by the DESPRO Swiss-Ukrainian Decentralisation Support Project in Ukraine, with the assistance of the Ministry of Regional Development, Construction and Housing and Communal Services of Ukraine and the Zhovkva City Council. It was the second such event held by the DESPRO Project: the first one was successfully held last month in the town of Krasnokutsk in Kharkiv Oblast.
Round І. What is decentralisation?
The group of non-supporters was lead by Zhovkva City Mayor Petro Vykhopen who believed that there was no need to hurry. At the same time, those who "were in favour, but..." were represented by Deputy Chairman of the Yavoriv Rayon Council Volodymyr Matseliukh and Chairman of the Association of Local Councils in Zhovkva Rayon and attorney-in-law Ihor Maksymiv. The debate started with their rather emotional speeches.
- There are almost no reasonable people in our Rayon who would be against the amalgamation of communities, Volodymyr Matseliukh noted. The problem is, which way to amalgamate. Should it be the way that residents of communities want or in accordance with cost analysis made by experts. In European countries, the similar reform had been carried out for ten and more years. At the same time, none of those countries carried out the reform during a war. In a word, I believe that the amalgamation should be mandatory and that the already established non-sustainable communities should be amalgamated with the sustainable ones.
- Following the road of changes, I want to see where we are going to, I want to see the destination point, Petro Vykhopen added. Instead, they say us: agree to the amalgamation and things will come right. Under such circumstances I do not want to accept responsibility to people. We need a road map, with the indication of not only a starting point but a finishing point as well.
- Now, tell me what is decentralisation? - Ihor Maksymiv supported him. - Yet, President Yuschenko promised to carry out the decentralisation within a three-month period. Let us speak about facts. Who is actually the landlord in Zhovka Rayon? The Chairman of Rayon Administration. Does anybody take into account the opinion of village heads in forming the state policy? No! So then, which decentralisation are we speaking about?
- When somebody is still reflecting whether to amalgamate or not and is thinking how it could be possible to organize that process, others have amalgamated and receive millions of hryvnias, Anatolii Tkachuk, the leader of supporters group, Director for Research and Development at the Institute of Civil Society, answered. - And regarding the road map, there is that map for the decentralisation reform. It is the concept adopted on 1 April 2014. Our objectives are expressly specified in it, there is the starting and finishing point.
Chairwoman of Omelnytska village amalgamated territorial community in Poltava Oblast Oleksandra Sheremetieva appealed mainly to the hearts rather then to reason of those who gathered in the hall. She spoke emotionally and did not chose her words carefully.
- Last year I visited the Lviv region to participate in an economic forum, and we jointly with other two chairpersons of ATCs went to many local towns and villages, Ms. Oleksandra remembered. - So, what I want to tell is the following: "You behave like a petted child!" You have transboarder cooperation projects here, you have foreign donors close by, and the situation is not as bad as it was with us prior to the amalgamation. That is why you do not grasp for the reform as last chance to be saved, and even reflect whether you need it or not. Indeed, in comparison with us, everything is well with you. Believe me, I know what I'm speaking about because I was the chairwoman of a Rayon State Administration for 11 years - from 1994 to 2005. In 2014, I was among those who were against the decentralisation. But when I made some computations, I began to think differently. Prior to the amalgamation, the consolidated budget of four village councils of our community's yearly budget totalled UAH 4.2 million. And after the amalgamation, UAH 18 million. And when government grants are included in the computation, UAH 34 million. So, isn't your nose tickling? Therefore, it is no question that I took as much powers as possible from the Rayon: employment inspector, culture, libraries...
Round II. About business of non-amalgamated communities that is "going on well"
Answers to the question "Is the business environment favourable in your population centre?" appeared to be unexpected to some extent. As well as to the question "Are there any additional funds raised (investments made or grants provided) to support the implementation of development projects?" So, 68% of those present answered that business environment was favourable, and 74% confirmed additional fund raising. If everything is well, then do we need to change anything?
- Indeed, we managed to implement several projects as part of cooperation between Ukraine, Poland, and Belarus, Volodymyr Matseliukh confirmed. - In addition, several enterprises were opened last year in the territory of our Rayon, which enterprises sell their product in the Lviv region market. It is true that we lack labour force for active development; however, that problem is incident to all border areas. Hence, the amalgamation of our communities should not occur just to be reported to the President's Administration. Prior to it, we should calculate economic benefits and see if there is sufficient provision, etc.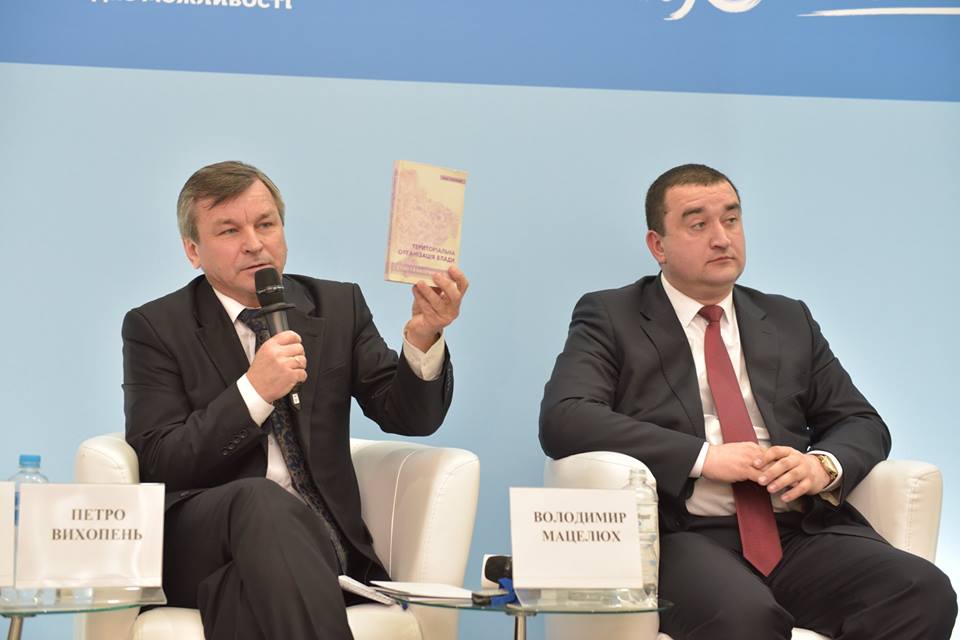 - The city of 13 thousand has the budget of UAH 18.5 million, Petro Vykhopen added. - During the last two years, we received the same amount through various grants. Just a short time ago, we received approximately 1 million Euros to improve the water supply and sanitation system. However, after the amalgamation, we won't be able to pay so much attention to the city since the infrastructure of neighbouring villages with which we have to amalgamate in accordance with the long-term plan is in a very bad condition. Indeed, after the amalgamation, we will have UAH 74 million instead of UAH 18 million. However, the number of residents needing those funds will increase twice! In addition, the government grant for infrastructure is calculated subject to the number rural residents, hence, the city of Zhovkva, again, will not become richer after the amalgamation.
At the end of his speech, Petro Vykhopen presented a map showing that Zhovkva is surrounded by privately owned land plots. According to the Mayor, such situation makes the development of the city impossible.
Chairwoman of Zhovkva Rayon State Administration Nadia Shchur unexpectedly intervening into the discussion after the demonstration of the map responded to him.
- Each Tuesday, I visit communities and see that people are ready to amalgamate, she said. - Here and there, they discuss this process. However, the Zhovkva City Council stays away from the discussions. If the City Council Chairman says that they have to amalgamate only to receive lands of neighbouring villages, then such amalgamation may be now put in cold storage. And if we analyse the map showed by Mr. Petro, then we can see that the lands he refers to were sold just during the last two years. Exactly at the time when he held the office. Why this has become a problem just now?
- The reform was initiated with the purpose of community development rather than for division of powers, Anatolii Tkachuk added. - Indeed, it is very convenient when you receive excise tax from several gas-filling stations, whereas the Rayon authorities bear the responsibility for schools and health care. May Rayon deal with problems! But, the peculiarity of the reform is that money is given to communities together with powers. And we may be proud of the fact that, first of all, schools are set in order actually in all newly established ATCs. In this way, new and socially responsible consciousness is being formed. Regarding the computation of amount of the government grant for infrastructure, I may say that cities have been living at the expense of rural areas for decades. Some day you have to repay those debts. Moreover, the civilized world is being built in such a manner that villages and cities form common boundaries. If we do not follow that way, villages will be doomed to disappear. It is important to redirect one's relationships for growth.
Also, Anatolii Tkachuk emphasized that the establishment of ATCs did not cut down opportunities of the city community to receive money; vice versa, it rather increased them. Indeed, this year, the central budget has allocated UAH 37.4 billion to deal with any particular problems of rural areas. Also, the amalgamated communities have opportunities to take part in various competitions. For instance, not long ago, Baranivska ATC won UAH 1 million for the creation of educational environment in its three schools.
- You have not tried to do anything, but are engaged in revealing problems, Oleksandra Sheremetieva summed up. - Just see how much you were ahead of us earlier and how the distance has become shorter over the two last years! The amalgamation resulted in UAH 6 of additional funds from various sources per UAH 1 of the budget just in 2016. Now, we are working on the creation of an industrial park. Just think of that! We, a village community that earlier could do nothing at all! We are building an industrial park! And we created many jobs over those two years! Returned many young people to their native villages!
Round III. About dilapidated schools and ruined roads
The audience answered to the question "Are any roads being built in your Rayon?" not as convincingly as to the previous ones: 64% of the participants answered "No". And to the question "Do you consider that material support to schools in your population centre is sufficient?" already 83% of the audience answered negatively. Hence, it is obvious that something is wrong in these areas at non-amalgamated communities.
At this round of discussion, there was one speech falling outside the topic, however it stuck in memory most of all. One village council chairman, speaking from his place, said that there was no need to amalgamate, but to reallocate taxes instead, so that a common village council becomes capable. That is to say, there are 18 gas wells operating in the territory of our community, and the state budget receives UAH 4 million per year from their use, whereas the local budget, only UAH 40 thousand. If it were vice versa, people would be likely to support the process of community amalgamation, and now they do not want to.
That response sparked outrage on the part of all three representatives of the supporting party.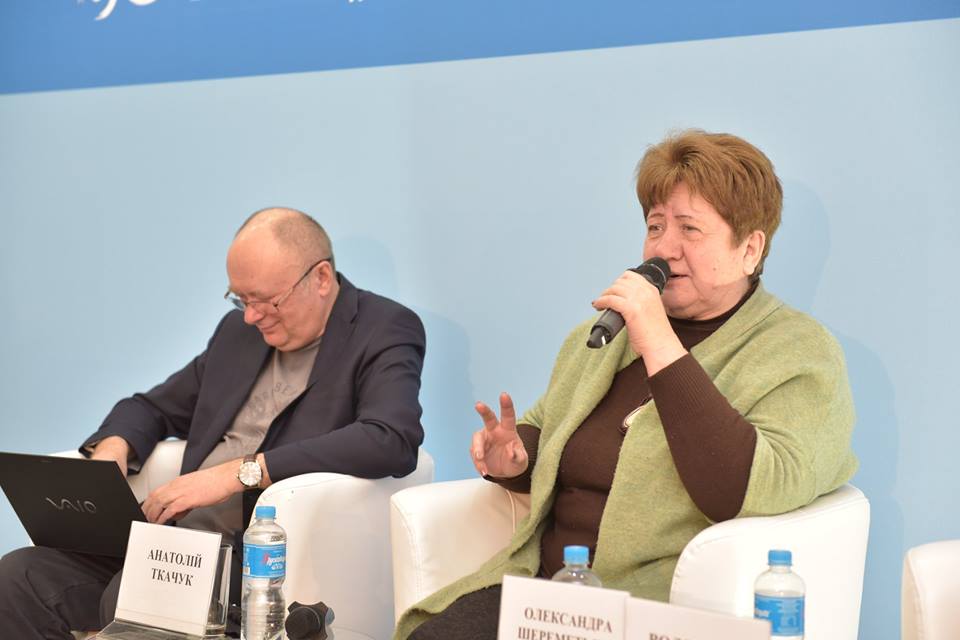 - Sonny, you are repeating my words said three years ago, Oleksandra Sheremetieva said. - But tell me, has the life become better in your community over the last two years? In mine, it has. And, please, have a seat and calculate what you will receive from the amalgamation. For instance, my village of Omelnyk, prior to amalgamation, had only UAH 400 thousand per year, at the same time village council maintenance expenditures totalled UAH 368 thousand. And after the amalgamation, we implemented 48 projects! I have not yet opened the children cafe, however, there are already 8 applications on my desk filed by young people wishing to lease it. And the cafe will not sell spirits and tobacco products! We spent UAH 1.8 million to repair roads. Indeed, they, probably, are not ideal, but repaired! We, who are present in this hall, constitute a local elite followed by residents of our cities and villages. Therefore, when I hear that, supposedly, "people are against amalgamation", I do not believe it. It means that you personally are against it. Let me work at your place for several months and people will be in favour of it!
- An increase in rental payments facilitates a community's destruction rather than its development, Anatolii Tkachuk added. In Columbia and Venezuela, there are a lot of natural resources; therefore, they decided one day to allocate 5% of all investments to local communities. However, a few years later, that provision had to be reversed: communities ceased to deal with development matters, they just shared out the money windfall. Then, scientists found out that, when unearned payments - the money that community made no efforts to have received it - constitute 15% of the budget funds of any community, it would die. Regarding the establishment of capable village councils, it should be also mentioned the following. We have to proceed from facts of life rather than imagination. Our neighbours in the EU have 30 thousand Euros per capita, whereas we have only 3 thousand Euros. The way you redistribute money does matter, money is scarce. Hence, we need to initially increase the GDP, and then distribute it.
Anatolii Tkachuk also emphasised the public function of the ATCs, which function is not pertinent to common, non-amalgamated communities.
- An ATC, while maintaining schools and hospitals, performs a public function, consequently, it is logical that it disposes of a significant part of a national tax - the VAT, he said. - In this area, the tax system, in particular, is logical, and because of it 15% of the GDP of Ukraine is already redistributed through local budgets. Instead, in European countries, the similar indicator hardly totals 10%. Hence, this is a great success!
- Prior to the amalgamation, in our village, there was no village council at all - we were a part of the Mykhailivska village council, he was supported by headman of the village of Chervona Dibrova of Hlybotska town amalgamated territorial community in Chernivtsi Oblast Volodymyr Chebotar. And after the amalgamation, the headman's office wasn't the only establishment: now, we have an ambulance station where a physician works, not a medical assistant. Our budget increased tenfold. Earlier, we could not even dream of road repairs and street lighting, however, now our roads are repaired and lighted. Also, we have established a dairy cooperative and opened a mini creamery where 500 litres of milk is processed per day. Are these arguments not enough to support amalgamation?
Round IV. Babylon and police
The answer to the question "Is the infrastructure (schools, kindergartens, medical and obstetrical stations, sports grounds, etc.) renewed in your population centre?" appeared to be unexpected: 76% of the participants answered positively. However, that fact did not save those who "were in favour, but...". It was obvious that they lost the battle and only tried to maintain an appearance in this connection.
- I heard of an opinion that, in Rayons, the decentralisation reform is hindered by chairmen of Rayon Administrations and Councils, Volodymyr Matseliukh admitted unexpectedly. - However, it is absolutely wrong. The day before yesterday, I was at the Khodorivska amalgamated community; so, many of former employees of the Rayon State Administration are employed by its office. I'm saying that the amalgamation process will not reduce the administrative machine: in certain Rayons, it may even have increased.
- And the rules of the game should not be changed! Mr. Volodymyr was supported by a man in the hall. - Neither education, nor health care is completely refined! Nobody knows how the administrative machine of an ATC should look like!
- It would be wrong to wait until everything is refined and proceed only after that, Anatolii Tkachuk responded to him. - It is like planning a journey: no matter how precisely you plan, nevertheless something will be wrong. And when you want to go to some place, you need at least to leave your dwelling. You know, as Henry Ford put it, "If I want, I know it will be so". So, the main thing is the desire to do something. And the rest will follow!
Petro Vykhopen made a last-gasp attempt to turn the tide.
To carry out the reform, we need to have agreed on the boundaries of amalgamated communities and future enlarged Rayons, he said. –. Let us see what we have done by now! In Starosambirsky Rayon, there are a few Departments of Education, one in each of the administrative centres of each community. Zhovkva tax inspectorate was joined to Lychakivska inspectorate in Lviv. The same thing happened to the Department of Pension Fund in Zhovkva Rayon. Instead, the Zhovkva police was joined to Kamianka-Buzka. And the Zhovkva Interdistrict Division of the Security Service of Ukraine Department, to Horodotsky Division. What's going on? Are we building a Babylon? How can we carry out, supposedly, the reform of health care if we do not know in which the Rayons the city of Zhovkva will be tomorrow - in Lychakivsky or Chervonohradsky?
- And if somebody of those present in this hall has to go, supposedly, to a meeting with the chief of Rayon police next week? Anatolii Tkachuk answered to that question. - There is no need for people to go to the Rayon centre to apply to public authorities! All certificates should be issued by the administrative service centre! Moreover, the document control should be maintained electronically. Common men need not know in which city the office of the chief of police is located! The world is changing, we cannot remain as old-fashioned as we were all the time.
Summing up his speech, Mr. Anatolii informed that authorities of the Republic of Tunisia declared some time ago of the beginning of decentralisation reform in the country. In this connection, the authors of reform will adopt, first of all, the Ukrainian experience.
- In all parts of the world, they wonder: how did you manage to introduce such a complex reform so fast! Anatolii Tkachuk said. - However, it is not completed: elections 2020 should be held in the amalgamated communities covering the entire territory of Ukraine. The number of people not having confidence in the reform is decreasing. However, the Rubicon is crossed, and there is no way back.